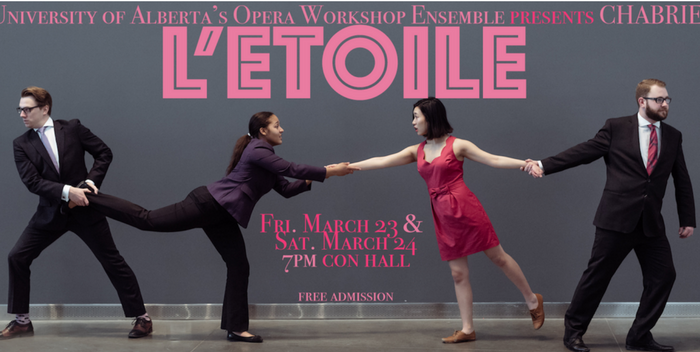 This Friday and Saturday (March 23rd and 24th), Opera Workshop will be presenting their production of Chabrier's opera, L'étoile. This opera follows princess Lauola on her journey of marriage to the King of a neighboring country. However, complications arise when the princess meets Lazuli, a young peddler.
Heeyun Park
Heeyun, who plays Princess Lauola in Saturday's performance, is in her third year of a Bachelor's Degree in vocal performance at the University of Alberta.
This is Heeyun's second year participating in Opera Workshop and feels the experience has been incredibly rewarding. She's extremely grateful for the opportunity to receive direction and advice from such a talented group of women.
Heeyun's portrayal of Lauola is largely inspired by Hope, a lead role from the musical Urinetown. Because Hope is young, naïve and privileged, Heeyun saw a lot of similarities between Hope and how she wanted to portray Lauola.
Not only does Heeyun love being involved in opera productions, she also enjoys operatic performances. Currently, her favourite opera is Don Giovanni, although she found it difficult to choose only one.
Heeyun spends most of her time studying, but she does enjoy the occasional brain break to watch some of her favourite TV shows, including Bob's Burgers and The Office
Dacia Gramlick
Dacia is in her third year of Bachelor's Degree in vocal performance and has participated in Opera Workshop since her first year in university. In Friday's production of L'étoile, Dacia will be playing Lazuli, the peddler.
For Dacia, one of the more challenging aspects of being involved in a production like L'étoile, was the amount of memorization. To overcome this challenge, she invented prompts to help her remember her lines while performing.
Dacia's favourite aspect of Opera Workshop is the artistic freedom she's allowed to exhibit while understanding and developing a character.
Along with being a hardworking student, Dacia is also a member of the U of A Track and Field Team. This commitment usually takes up most of Dacia's free time. However, they are currently in their off season so she's excited to have more time to focus on music.
Jezebele Zbozny-DelPercio
Jezebele is the director for this weekend's Opera Workshop production.
This is her first time working with Opera Workshop and at the U of A, as she only moved to Edmonton last year. She is originally from Pittsburg, Pennsylvania and completed her post-secondary education at the American Academy of Dramatics in New York City.
However, Jezebele's focus has not always been on opera or directing. From a young age she was heavily involved in the musical theatre community as an actor. She also worked as a professional dancer before becoming interested in opera about 4 years ago. Jezebele made her first directing debut in Pittsburg at the age of 17.
As a director, Jezebele often draws inspiration from the late William Ball, who focused on unique, hands-off, exploratory theatre. However, for this production of L'étoile she felt particularly inspired by the dramatic flair of 1950's entertainment, such as Soap Operas.
Jezebele loved the opportunity to work with the Opera Workshop students and show them how much fun a production can be.
Quirky and imaginative, this Opera Workshop production will definitely be an entertaining and enjoyable evening of vocal performance.
You can find more information about this upcoming performance on the Department of Music Webpage
Previous articleEcho of Nothing – The Stories Behind the CompositionsNext article
Director Mitchell Cushman Introduces The School for Scandal