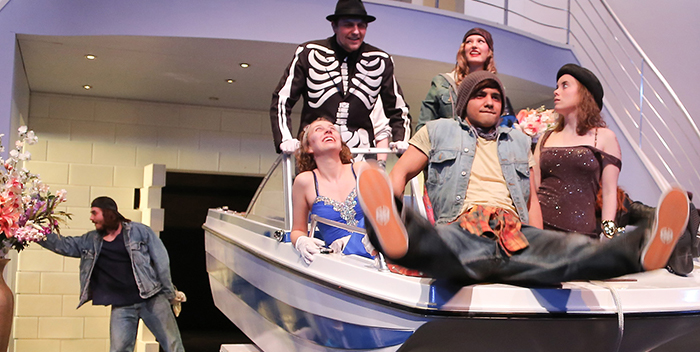 With The Lady from the Sea now closed, the 2016-17 Studio Theatre season has come to an end. Here now is a look back in photos at these compelling productions…
God's Ear
by Jenny Schwartz
October 13-22, 2016
Director – Suzie Martin
Set Designer – Ksenia Broda-Milian
Costume Designer – Narda McCarroll
Lighting Designer – Lee Livingstone
Sound Designer – Michael Caron
More God's Ear in Curious Arts:
Twelfth Night
by William Shakespeare
November 24-December 3, 2016
Director – Ashley Wright*
Set Designer – Reza Basirzadeh
Costume Designer – Stephanie Bahniuk
Lighting Designer – Robert Shannon
Composer – Dave Clarke
Sound Designer – Nicholas Juba
*In partial fulfilment of his MFA Directing thesis
More Twelfth Night in Curious Arts:
Government Inspector
by Nikolai Gogol (adaptation by David Harrower)
February 9-18, 2017
Director – Ron Jenkins*
Set / Wardrobe Designer – Colin Winslow
Lighting Designer – Ksenia Broda-Milian
Sound Designer – Aaron Macri
*Mary Mooney Distinguished Visiting Artist. The participation of this Artist is arranged by permission of Canadian Actors' Equity Association under the provisions of the Dance Opera Theatre policy.
More Government Inspector in Curious Arts:
Bright Burning
by Colleen Murphy
March 30-April 8, 2017
Director – Jan Selman
Set / Lighting Designer – LLARS Design, Lee Livingstone, Robert Shannon
Costume Designer – Hannah Matiachuk
Sound Designer – Aidan Ware
More Bright Burning in Curious Arts:
The Lady from the Sea
by Henrik Ibsen, adaptation by Michael Bradley
May 18-27, 2017
Director – Michael Bradley*
Production Designer – Ksenia Broda-Milian
Sound Designer – Matthew Skopyk
Production Dramaturg – Elise LaCroix
*Michael Bradley is an MFA directing Candidate. The work on this production is in fulfillment of his MFA Directing degree for the Department of Drama.
Stay tuned for details on the upcoming 2017-18 Studio Theatre season featuring Pulitzer Prize-winning playwrights, a quintessential comedy of manners, and original adaptations of some of theatre's greatest masterpieces…!
More The Lady from the Sea in Curious Arts: