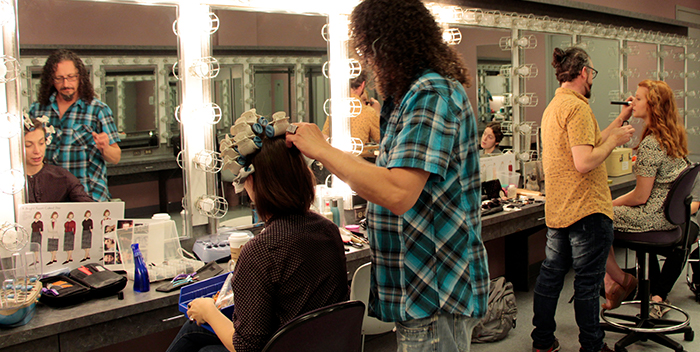 The cast of the upcoming A Bright Room Called Day are learning how to properly style their hair and makeup to look the part of young women in 1930s Germany.
To achieve the authenticity, the Drama Department called on industry professionals Lloyd Bell and Michael Devanney to show cast members and BFA Acting students Hayley Moorhouse and Erin Pettifor, and castmate and BFA Acting alumni Melissa Thingelstad, how to achieve their respective looks.
Overseeing the process was MFA Theatre Design candidate Reza Basirzadeh, who designed the costumes. A Bright Room Called Day is Reza's final thesis show.
If you haven't already, check out the Facebook photo album for more great behind the scenes photos of A Bright Room Called Day.
A BRIGHT ROOM CALLED DAY
by Tony Kushner
Directed by Brenley Charkow
Set/Props/Lighting Designer: Lee Livingstone
Costume Designer: Reza Basirzadeh
Timms Centre for the Arts
October 12–21, 2017 at 7:30 pm
Preview October 11 at 7:30 pm
No Show October 15; Matinee October 19 at 12:30 pm